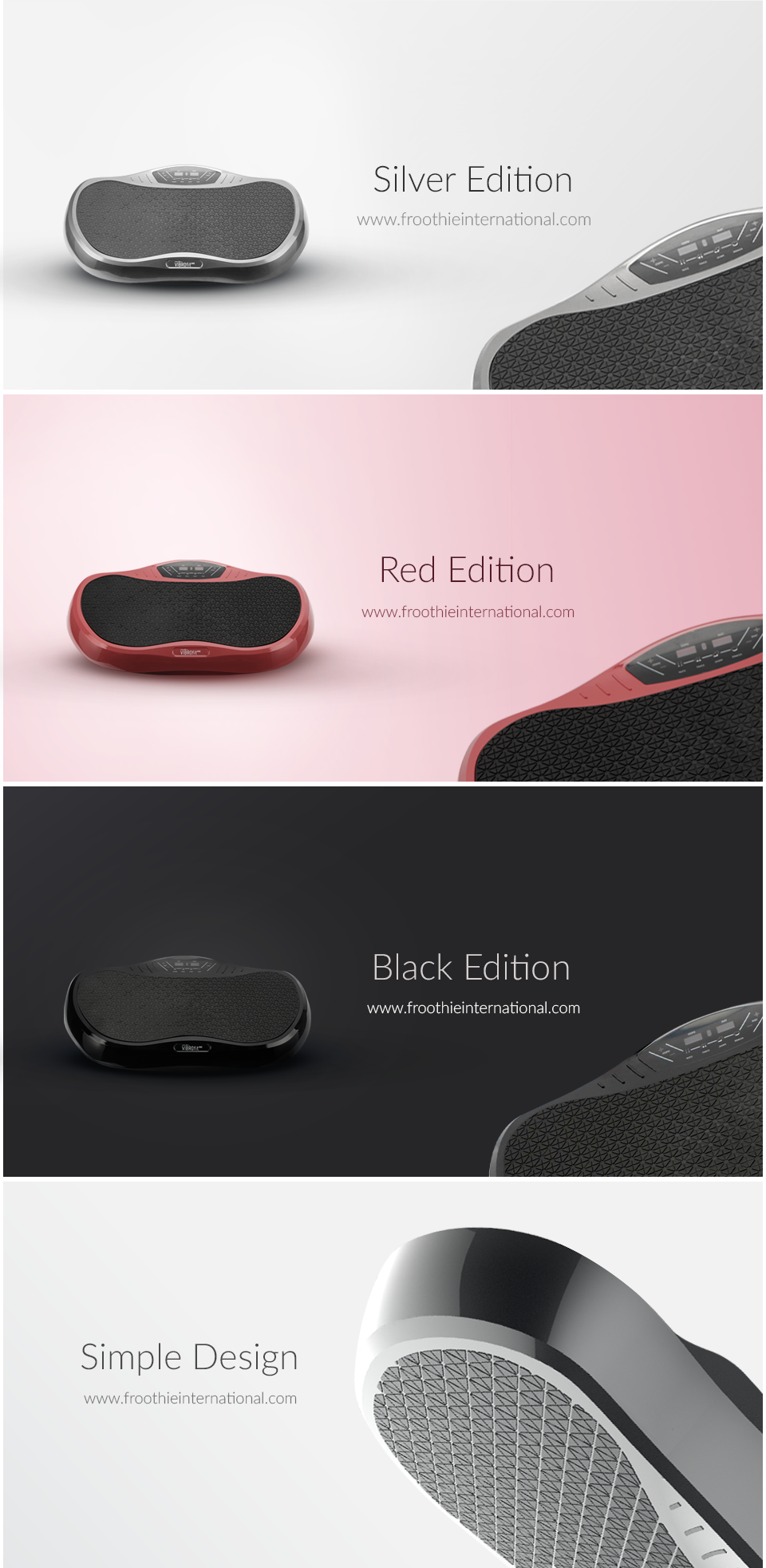 Introduction
The VibroFit One is suitable for all ages with varying exercise capacities. It is all you need for you and your family to stay healthy and active. The VibroFit One is a multi-directional vibration system that provides you with a well-rounded total body workout at home, aiding in circulation, bone density, joint movement, weight loss and muscle toning. Encased in a sleek exterior, the beautiful machine is designed to stow away easily in any home or space. If you are new to vibration machines and wish to stay active despite a hectic schedule, the VibroFit One is your perfect choice as the one-size-fits-all workout machine.

The VibroFit One features an oscillating platform that oscillates between 5-12Hz and up to 12mm in amplitude. Its control panel features a digital display and press button controls with 200 adjustable speeds and 10 preset programs so you can start working out with just one push of the button. We have also included resistance straps with your VibroFit One so you can customise your workout to your desired intensity. With Bluetooth pairing capabilities and remote control operation, the VibroFit One will be your best workout companion that let helps you stay in shape while listening to your favourite music anytime you want, however you want to.
view more
VibroFit One Specifications
No. of Programs
10 preset and 1 manual
Platform Type
Oscillating
Control Panel
Digital display
Maximum User Weight
120kg

Technology employed by NASA
The VibroFit One is made to oscillate between 5-12Hz at an effective amplitude of 12mm. The maximum acceleration coupled with multi-dimensional movement reaches the deepest layers of the skin, muscle and bone to increase the benefits of exercise, allowing you to reduce the time required to achieve your desired results in weight loss, muscle-building and even skill acquisition and retention. This technology is key to counteracting astronauts' muscle and bone density loss in zero-gravity space, increasing the performance while mitigating joint and muscle injury of professional athletes and building strong bones, promoting healthy circulation and body shaping for the average person. This game-changing oscillation technology by VibroFit One is also proven to increase strength, balance, flexibility and aids in weight loss through improved circulation, pain reduction, detoxification, stress alleviation, and even reduction in the appearance of cellulite through muscle toning.
view more
Benefits of the VibroFit One
Target Problem Areas Simultaneously
By incorporating aerobics and strengthening exercises, you will be able to amplify the effects of weight loss exercises and effectively build up muscles.
Maximising Muscle Contractions
Every single one of your muscle groups is put to work through reflex muscle contractions for the most efficient full body workout in the shortest amount of time.
Tones, Shapes and Burns
Simple stances that anyone can do is all you need to get in shape with a full body workout that tones up your muscles, shapes your body and burns off unwanted fats.
Supports Joint Health
Great for the elderly or individuals unable to perform conventional exercise.
Why offer the VibroFit?
Did you know that the Russians used Vibration Training Exercises to counteract bone density and muscle tissue loss from zero-gravity exposure to keep their astronauts spacebound almost 4 times longer than the Americans?

Whole body vibration exercise could be your answer to common ailments such as bone density loss through aging, poor blood circulation and enhancing the effects of conventional exercise; giving you better results without additional time and effort.

The VibroFit One is going to transform you and your family's health since it is great for all ages, easy and convenient to use, and helps amplify the results of your workouts. Toning, shaping and burning through inducing reflex muscle contractions in your whole body, the VibroFit One is everything you need encased in a slim, compact machine that would fit perfectly in every home.