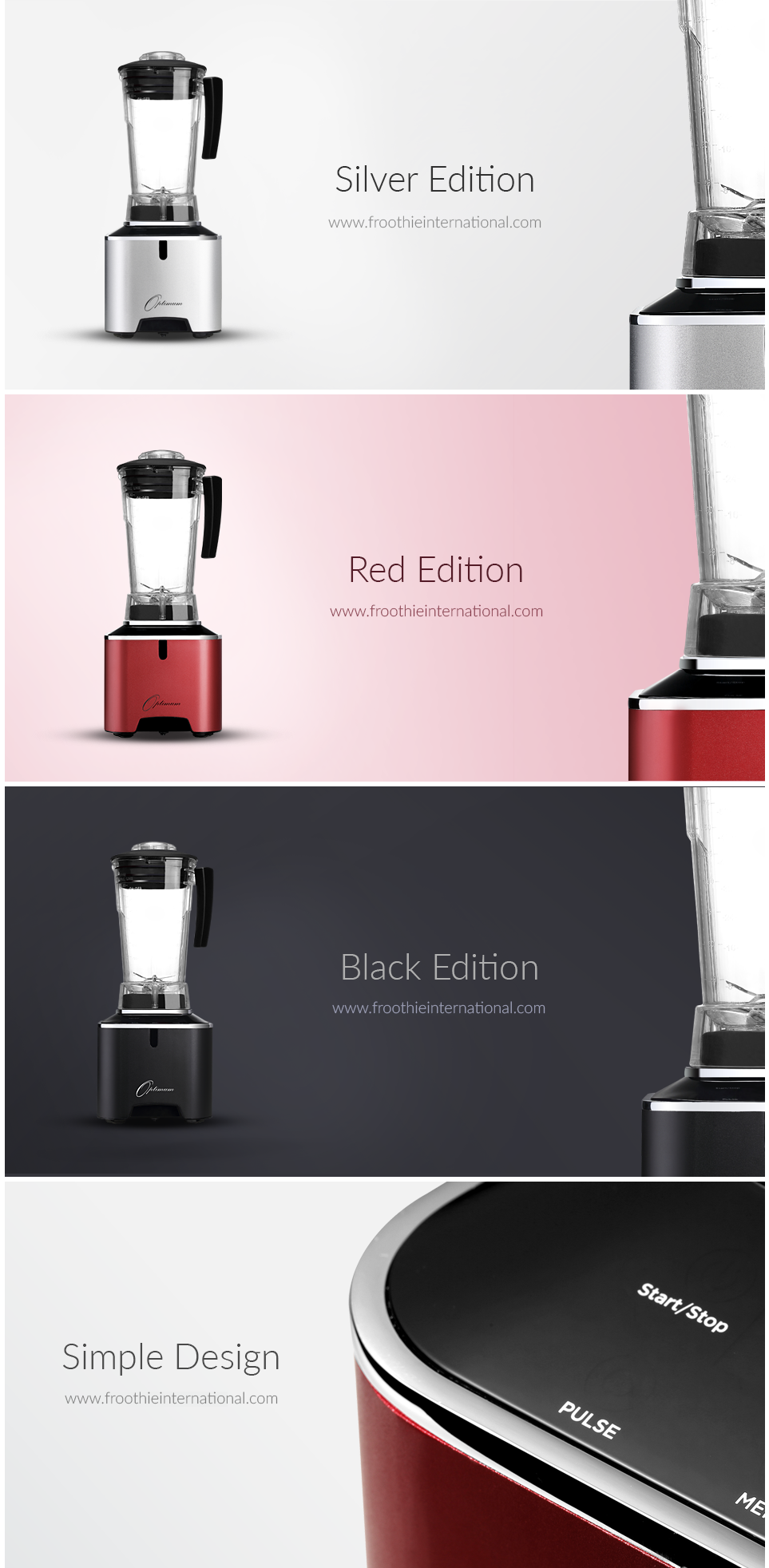 Introduction
Sleek, sophisticated and so very practical – the Optimum G2.1 - Platinum Series Vortex blender is the most advanced blender within the Optimum range of appliances. Our supplier, Optimum Appliances, is an Australian-owned company who've built their reputation by developing world-class products, which are then distributed across the globe exclusively via Froothie. They've earned that reputation in part due to the time invested to research customer's needs – and then do whatever possible to achieve a high quality end result. For example, we asked our busiest, most discerning clients what they really needed from their blenders. They told us they wanted an intelligent appliance that created smoothies, soups, and other fresh, healthy foods as quickly and simply as possible. Just as importantly, however, they didn't want all that intelligence to come at the expense of elegance. Welcome to the Optimum G2.1 - Platinum Series Vortex Blender: smart, versatile functionality at the push of a button – all in a stunningly stylish exterior package.
view more
Blender Specifications
Blade Quality
Stainless steel
Programmed Cycles
6 Pre programmed Settings
Grade
Domestic and Commercial
Features of the Optimum G2.1
Simple LED touchscreen panel
This clear, uncluttered display screen makes selecting the right menu option a breeze.
One-push button programmes
Create perfect smoothies, sorbets, nut milks, soups, sauces, ground nuts or coffee... each with just a single button press.
Precise, fine-tuned manual control
Ability to set the time and speed to the exact parameters you desire, or pulse first for increased smoothness.
A large, multi-purpose wet/dry jug
No need to use separate jugs for different types of blending jobs.
Why offer the Optimum G2.1 Platinum Series Vortex blender?
Helping people lead a healthier lifestyle whilst promoting our exclusive range, Optimum. We know that staying healthy and eating the freshest, most nutritious foods is a non-negotiable for you. How else would you find the energy to keep up with your busy schedule? Optimum Appliances have worked hard to design a blender that ticked all the boxes: smart and versatile, with a sleek, modern appearance. The result: the Optimum G2.1 - Platinum Series Vortex blender where quality and versatility meet a unique and stylish design.
Explore all the functions
Fruit Smoothies

Fruit Smoothies

Grinding Nuts and Grais

Nut Milk

Nut Butter

Hot Soup

Spreads and Dips

Frozen Fruits Ice Cream

Crushes Ice

Fruit Juices

Cocktails

Omlettes

Food Drep

Dough

Dressings
view more